A New Age of

Personal Training
For the last 15 years we've been helping high achieving professionals look and feel fitter today than 15 years ago WITHOUT wasting time, energy or resources.
We have kept royals, politicians and chief executives of FTSE listed businesses in peak physical condition through completing this programme. It has given them the energy to effortlessly lead their high pressure lifestyles. Our 61 years of combined experience has been gained from over 50,000 hours of personal training, having delivered over 1350 total body transformations. We have put that knowledge to use for you in this carefully planned programme!
No matter where you are located in the world, or where you have to travel, we can help you achieve a more optimised version of yourself. To date we've trained clients in the following countries: UK, Ireland, USA, Canada, Australia, Israel, Denmark, Germany, Spain, Switzerland, India, Iraq, Saudi Arabia, United Arab Emirates and The Maldives.
Our 12 Week Online Package
You will learn and gain access to:
The 4 step Blueprint we have used with 1350 busy professionals in order to make them feel fitter today than they did 15 years ago without wasting time and effort!
You will be lead through your own bespoke programme by 3 of our 6 highly experienced coaches.
You'll learn a flexible way of eating that will fit into your busy lifestyle, while re-igniting your metabolism.
You'll learn strength exercises that provide you the biggest 'bang for your buck' that help you achieve results efficiently.
You'll learn how to change your body composition (increasing lean muscle while reducing body fat).
We will teach you lifestyle hacks that help our clients, gain energy and focus, while reducing stress in their hectic lifestyle and busy career.
You'll learn how to manage joint pain so that you don't need to constantly take unwanted breaks from your training.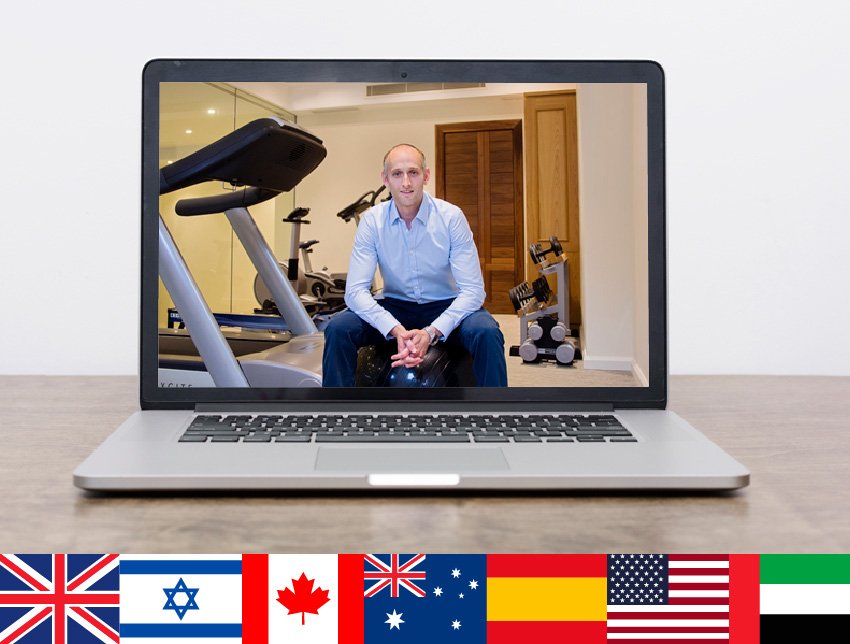 Our Approach
Too often Personal Trainers jump straight in, creating strict diet plans for their client; programmes that involve training in the gym for an hour 4 times per week and this is all more often than not the same – NO MATTER WHO THE CLIENT IS.
We understand your situation and the alternative approach it requires… 

Here are some truths:
1. You don't have time for training. So how do we ensure you can fit it into your lifestyle.
2. A restrictive diet that involves making tuperwear boxes of chiken and brocoli 5 days per
week really isn't going to fit in with work lunches and unpredictible days in the office.
3. Your start point with regards to physical condition might not be great and you likely have
back & neck pain from spending hours on an office chair, hunched over your laptop.
4. Your stress is getting in the way of your motivation. Any programme you take on has to
be worth it.
This programme was designed to fix all of this, and has done for 100s of men just like you.
STEP 1 BODY APPRAISAL AND AUDIT
Like the strategies we create in business, we need to know and understand our start point and then where we'd like to get to. The requirements, both physical and general health, for every professional will be different and we want to create an achievable plan that gives you the most 'BANG FOR YOUR BUCK'.
Generic workout and diet plans do not work for busy high achieving professionals.
STEP 2 METABOLISM STIMULATION
As I previously said, we're not looking to starve you; that's not sustainable and you need your energy every day! We want to make a few 'tweaks' and insert some good habits, with more knowledge, so that your matabolism starts working better and faster! Start tracking Macros – Get this right and there'll be no need for hours in the gym.
Just keep it simple; No need for food scales and tupperware.
STEP 3 STRENGTH PHYSIQUE TRAINING
Nobody wants to be skinny and weak. We're not trying to simply help you lose weight, but instead trying to reduce your body fat % and in general – make you the most optimized version of yourself.
This is when the fire really starts burning. And it doesn't involve hours in the gym.
STEP 4 OPTIMAL ENERGY POSITIONING
At this point, we look at your energy and how motivated, calm and strong you feel. We want to get your brain firing and optimised to ensure you are jumping out of bed in the morning!
So what do we look at:
Your NEAT (Non Exercise Active Thermogenic) 2. Review Sleep 3. Manipulate energy to always be firing. 4. Lifestyle Hacks and Swaps. 5. Hormone Adjustment
Ready to

Transform Your Life?
Request Your Consultation